OBJECTIVE
MEDIATE CHANGE
How do we make transitions in the city less harmful, and more inclusive, for the communities?
ENHANCE NEIGHBORHOOD IDENTITY
How can we help the transforming city preserve and promote its distinct qualities?
SOLUTION
GATHR encourages local gatherings where individuals from different social bubbles can not only communicate shared interests but also vocalize community thoughts, therefore fostering open-mindedness and inclusiveness within the community.
GATHR promotes hyperlocal events which are integral of the city culture. GATHR's crowdsourcing nature helps to create a visual presence of the collective neighborhood memories, therefore enhancing local identity from the digital side.
01
UNDERSTANDING THE CONTEXT
BACKGROUND
We were asked to design a solution for Pittsburgh that imparts an 'impact' on its residents. We were encouraged to explore the city, and to find ways to integrate emerging technologies and the present city. The project scope was very broad; our design could focus anywhere from micro-interactions to generational improvement.
INITIAL QUESTIONS
The team noticed that Pittsburgh is a city in transition. As newcomers flushing into the city, social changes have occurred in the community alongside with the city's economic growth. and we became interested in learning the perspectives from both old and new residents of Pittsburgh to find potential design opportunities. We came up with the following questions that could guide us with our research:
How do native residents view today's Pittsburgh?
How do newcomers view Pittsburgh?
How do they make connections and why?
02
EXPLORATORY RESEARCH
RESEARCH METHODS
In order to have a holistic understanding of our problem space, we interviewed a wide range of people who are currently living in Pittsburgh, which include 16 newcomers, 3 transients, 3 locals and 1 expert.
The team visited 5 neighborhoods and participated in 3 local events to observe the city and people's life. We also informally interviewed individuals along the way as part of the contextual inquiry process.
RESEARCH SYNTHESIS
After summarizing our discoveries with affinity mapping, 12 themes stood out in particular. Within these themes, we identified 2 key challenges and 2 opportunities that together established our design directions:
Based on the 4 insights identified above, the team came up with our design objective:
03
IDEATION & RAPID USER TESTING
ORIGINAL CONCEPT
The team brainstormed many concepts based on our research and established design goals, and decided to design an intervention around the existing bus stop system because bus stops are where people from different silos come together naturally and have time to linger. Our initial concept is a series of interactive questionnaire boxes installed at bus stops in each neighborhood.
To better understand the feasibility and desirability of this concept, we quickly tried 4 generative research techniques and gathered user feedbacks. After feedback evaluation, we realized that people has very low motivation to engage with others while waiting for buses because they foresee the new relationship as temporary, and they don't want to stand out in a public space.
SHIFT IN DIRECTION
We revisited our findings to identify a scenario where people are in the right mindset for interaction. We found flyers are excellent resources for discovering hyperlocal gatherings and events, but they are only exposed to certain areas. We thus geared our direction toward empowering this existing information dissemination system to connect individuals to local events based on mutual interests, and allow them to vocalize community thoughts in an open-minded environment.
04
CONCEPT DEVELOPMENT
Our new concept, which is named GATHR, is an online flyer-centric platform that allows people to discover local events by searching flyers, help to build community's visual identity by posting local flyers, and connect with others by going to committed events and gatherings.
USER JOURNEY
Two major user experience paths of GATHR are sketched out based on user groups, usage incentives and usage environments. From there, we focused on detailing out the entire user journey for event attendants and determined that the system should be a mobile application.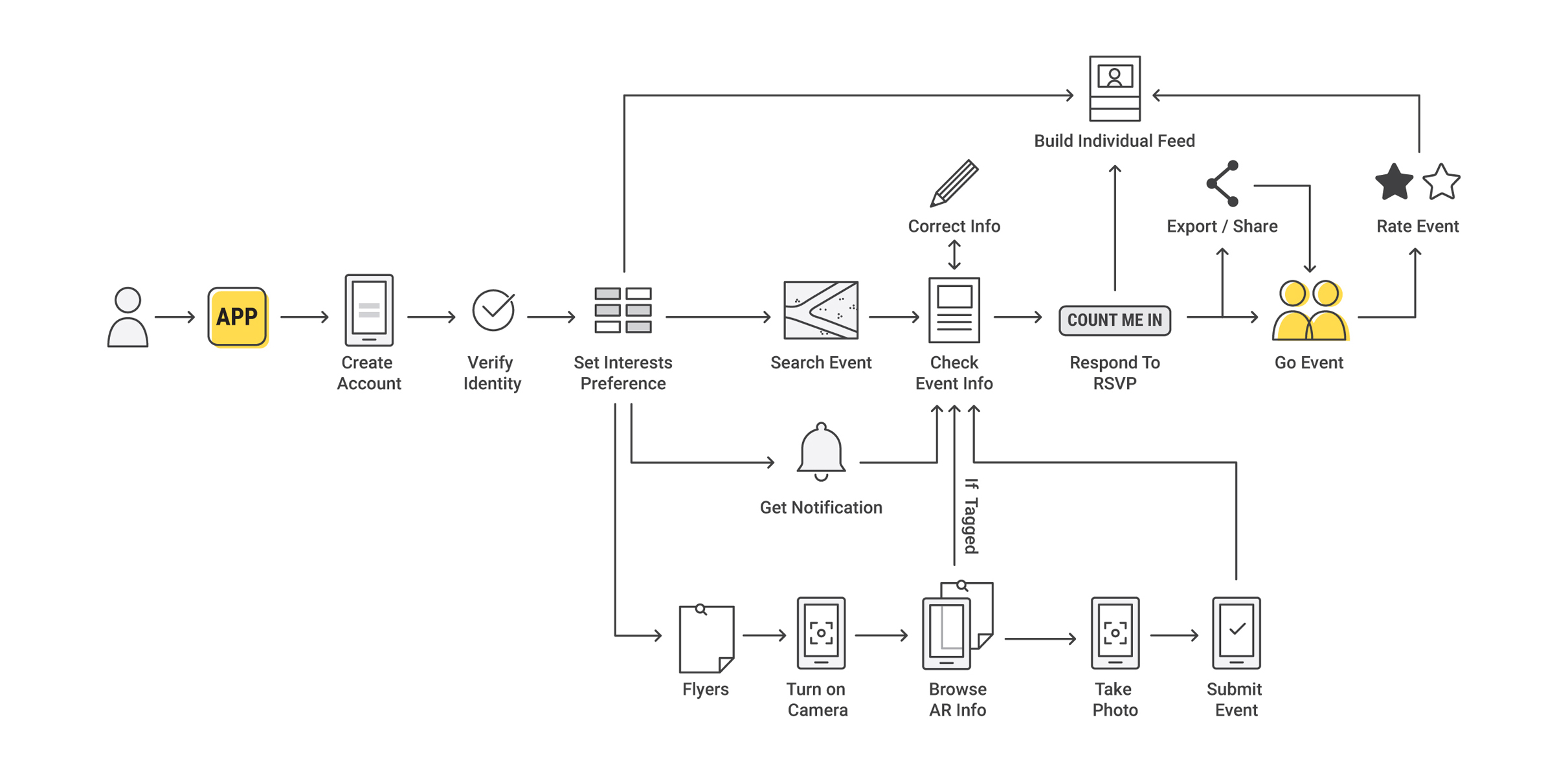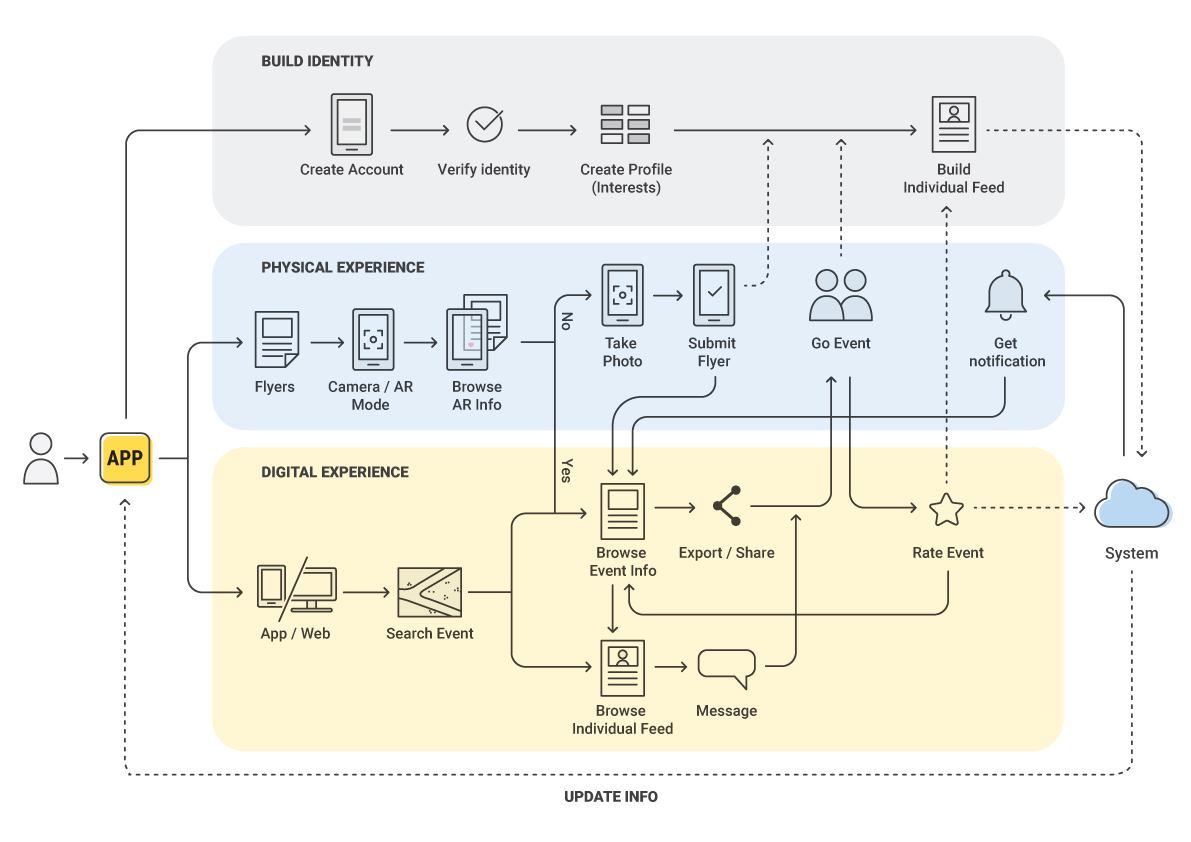 05
PROTOTYPING
MOBILE APP EXPERIENCE
Based on the journey map, the team began to design the mobile app system. We started with creating the app's information architecture to ensure its alignment with the user journey, then we built the wireframes to enhance its usability.
AR EXPERIENCE
When designing user's "posting flyer" experience, one question naturally arose: how would users know if a flyer was already tagged in GATHR? We considered incorporating augmented reality (AR) into the app's camera view as a possible solution: a turquoise-colored frame floating on the flyer indicates that this flyer has already been submitted into GATHR by others, and a yellow frame means that this flyer might align with user's interest.
06
USER TESTING & ITERATION
The team tested the prototype with relevant stakeholders, and made the following design changes to the mobile app:
Adding the "flag" feature into the system so that anyone is able to report inappropriate flyers on the platform.
Swapping "Explore" with "Feed" as the default landing page to better deliver themed content, such as flyers from unvisited neighborhoods, in order to encourage certain user behavior.
From user testing we also found the need of creating the web version of GATHR. For event attendants, they wish to have access to GATHR's collection of digital flyers from any device, without logging into the system. And for event hosts, they wish GATHR to offer business account and provide host-specific features such as flyer design templates, which would work better on larger screen. Thus, we prototyped the web application experience as part of the GATHR system.
WEB APP EXPERIENCE
07
HI-FIDELITY DESIGN
MOBILE APP
AR MODE DEMO
In addition to seeing flyers' tagging status, users can also find interesting AR content to gain a more concrete idea about specific events and groups. These media can be uploaded by the event hosts through GATHR's business account.
08
NEXT STEPS
Through cohesive branding strategies and public recognition, we believe that GATHR can expand to other metropolitan areas that are in transition and in need of enhancing local identities. Below are some proposed initiatives: