What Is in the Exhibit?
PRELUDE
Upon entering the exhibit area, visitors will see a description about Eddie's world and receive a booklet that introduces the exhibit and instructs how visitors can interact with the objects at each stage of the exhibit.
STAGE 01
In this stage, visitors will experience Eddie's life as a student in gap year at the age of 19. The booklet page and component label shown below narrate the background story.
STAGE 02
In this stage, visitors will experience Eddie's life as a Silicon Valley engineer at the age of 27. The booklet page and component label shown below narrate the background story.
STAGE 03
In this stage, visitors will experience Eddie's life as a professional gamer at the age of 44. The booklet page and component labels shown below narrate the background story.
Why We Created this Exhibit?
THE POSSIBLE FUTURE
With all the signals we found in the present time of 2018, we see a future world in 2045 where:
Recording and sharing technologies for digital immersive experiences are mature and ubiquitous;
Everyone becomes both producers and consumers of memory products;
The commercial value of "personal experience" is widely accepted and a new economy model has emerged.
THE CRITICAL QUESTIONS
Based on this vision, we created Eddie and imagined how he would live his life from now to 2045. We invite visitors to consider the following questions:
What happens when simulated reality becomes your entire reality and memories?
What are the values of experiences? Can you achieve happiness in life via living through others' experiences?
Who will choose to live in simulated reality? Who will benefit from consuming simulated experiences? Who will receive the repercussion?
Who will live in the physical reality? Why would they choose to do so?
What is the definition of privacy in 2045? What are people's attitude towards personal data?
01
UNDERSTANDING THE CONTEXT
BACKGROUND
We're tasked with designing a critical design exhibit piece that explores a possible future of memory and technology. The final presentation of the design can be anything from an interactive space to a series of critical objects, but it should provoke conversation around that future.
FINDING SIGNALS
The first step we took is to conduct a horizon scan for signals that point to directions of possible futures. We researched emerging technologies, industry and product trends, as well as social changes.
Some of these signals, such as ASMR videos, suggest that people love immersive experiences and are increasingly treating artificial content as part of their real experiences and memories. Other signals, such as Snapchat Glasses, point out the trend of empowering people to capture and share personal memories, and monetizing individual experiences as simulated experiences.
In all, these signals highlight the desirability and commercial value of sharing and experiencing simulated memories through first-person point of view (POV).
FUTURE BACKCASTING
Building on the signal analysis and the resulted future vision, we created a backcasted timeline from 2017 to 2045 to concretize this imagined future history step by step. This process helped us to understand how our future vision might become a reality, and what kind of milestones a single person might encounter in his life to arrive at this future world.
03
CONCEPT DEVELOPMENT
Inspired from the future backcasting process, we want to design an exhibit that narrates a future world from one person's perspective. We created a persona called Eddie, and reconstructed 3 snapshots in his life as life story instances following the timeline we created previously.
PERSONA & STORYMAKING
EXHIBIT EXPERIENCE
Based on the story narrative we created for Eddie, we then designed the exhibit in the following structure and listed the components that need to be delivered for the experience:
We wanted the 3 stages of the exhibit to demonstrate a progression of how memory becomes commercialized and how social norms are dramatically changed:
STAGE 01
The 1st representative application of experience sharing and memory manipulation is the commercial advertisement. The purpose of the AR ads is to attract potential consumers by combining an ideal simulated environment with their real life activities. As Eddie takes a bath in his inflatable pool, the immersive projection allows him to enjoy a simulated hot spring experience in his own courtyard.
STAGE 02
The boom of Youtube's interactive social content marks the beginning of a memory-sharing economy. Eddie starts to pursue simulated social interactions to fulfill desires unachieved in the real world. The legitimacy of simulated memory becomes a hot issue. Which memory is more valuable for Eddie? The real depressing ones or the simulated joyful ones? The answer becomes ambiguous.
STAGE 03
Over the years, technology has advanced to the point of achieving complete documentation of personal experience. People who provides special memories are the new stars, and memory-sharing becomes their major source of income.
Eddie makes a living by selling his gaming experience on NetTube, and he also purchases other's memories to suit his own needs. Purchased memories would be modified based on Eddie's profile to ensure a seamless first-person experience. By subscribing to an average person's life for 3 years, he accumulated many beautiful moments that are indispensable and invaluable to him. A possible future for Eddie is to continue to subscribe to the same person, and enjoy an "intimate life" with a family who never actually know him.
04
PROTOTYPING
STAGE 01
The ads experience is achieved by projection mapping via Processing and the Keystone library:
STAGE 02
The dating experience is achieved by connecting light sensors to video clips via Arduino and Processing:
Staging - Light sensors are attached to seat, cup and Pringles tin
01 - Before the visitor sits down, the screen will display an empty cafe space.
02 - When sitting down, the seat sensor will trigger a video of Abby arriving at the cafe on the screen.
03 - When picking up the coffee cup, the cup sensor will trigger a video of Abby cheers with her cup.
04 - When picking up the Pringles tin, the tin sensor will trigger a video of Abby asking the visitor to open the tin for her.
05 - When there is no interactions, Abby will return to a neutral position waiting for the visitor.
STAGE 03
The NetTube experience is achieved by connecting RFIDs to images via Arduino/Processing and mirroring Mac desktop to iPhone screen via the Yam Air app:
Staging - RFID Sticker Tags are Sandwiched in the Experience Tokens, which can be identified by the RFID reader hidden in a cylinder box; iPhone is placed in Google Cardboard, which is wrapped by a protective cover.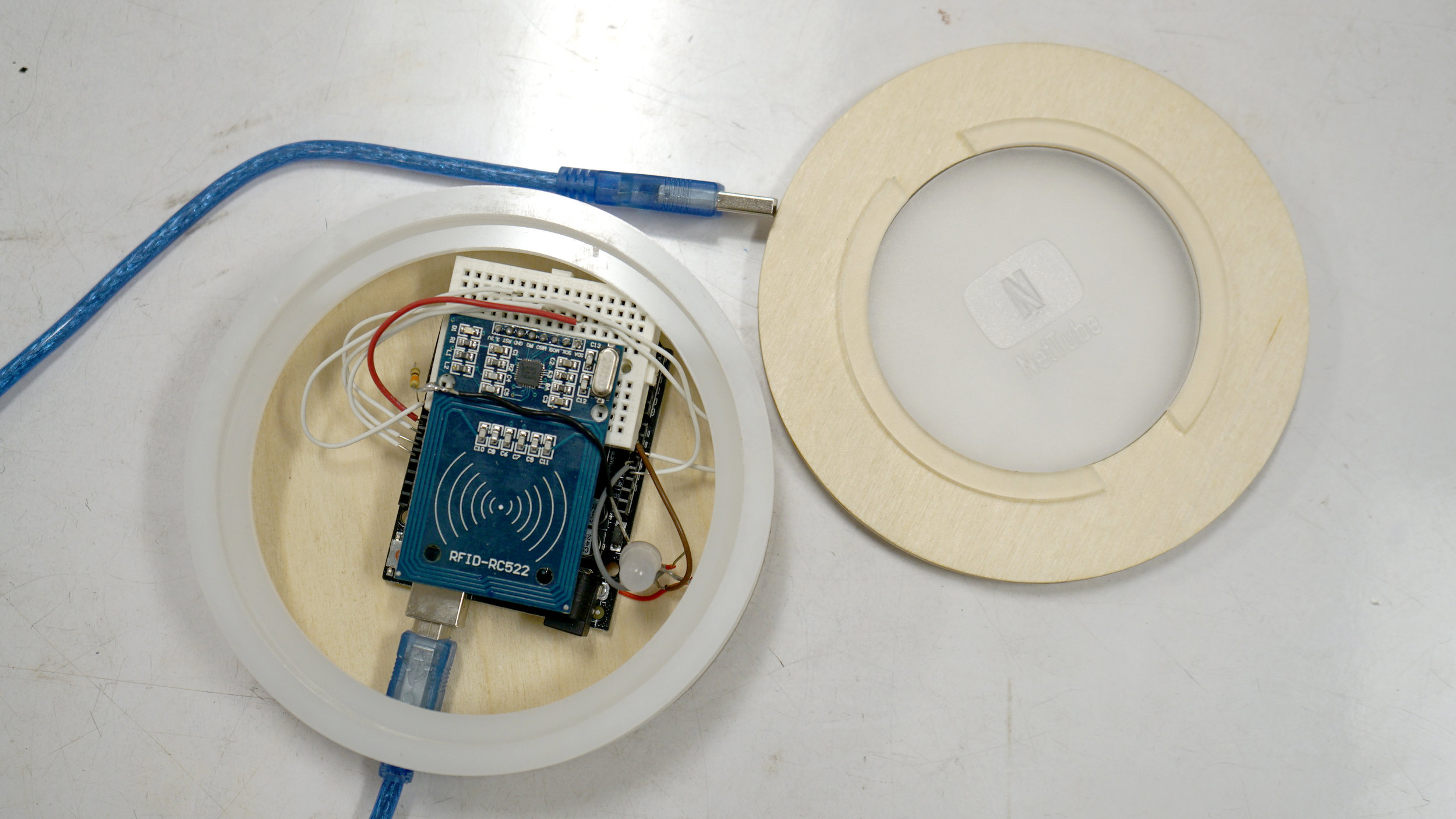 05
VISITOR REACTION & NEXT STEPS
Over 30 people visited the exhibit during the presentation day, and many of them were surprised by how real they felt about Eddie's story. People asked many questions about our approach and methods, and discussed with us about how the exhibit relates to their lives now.
One aspect we wish to improve is increasing visitor autonomy through a better curation. Although we provided the manual aiming to guide visitors going through the exhibit by themselves, the entire experience is still not seamless. For instance, some interactive components require manual reconfiguration after each visitor's usage. Also, some hardware keeps failing, and we have to step in to fix them.
In addition, since the majority of the provided materials are print-outs, it's hard to control their viewing sequence. This results in confusions about the overall storyline. One way to improve this is to use other multimedia such as audio or video contents, to provide a dynamic storyline and better guide the exhibit experience. Another way is to enclose each stage space so that visitors would follow the only available route and better understand how the story progresses.