PROBLEM
Current experience of managing pain is burdensome for patients. Providers often recommend to write a pain diary, but difficult for patients to know what to write on a daily basis. When patients visit doctor or ER, the check-in process is never easy and it is hard to describe their pain with words - which might not lead to correct treatment or prescription.
01
UNDERSTANDING THE CONTEXT
BACKGROUND
We partnered with a pain provider at University of Pittsburgh Medical Center to improve the usability of an existing mobile app prototype called Painimation. Painimation helps patients 1) identify the location of their pain via body coloring, and 2) describe the type of pain they have through animations.
Instead of directly jumping into the app redesign process, the team decided to conduct exploratory research with providers and patients to figure out the usage scenario for Painimation (patient and provider needs), and thus clarify our objective for the redesign.
02
EXPLORATORY RESEARCH
RESEARCH METHODS
We interviewed 6 sickle cell patients at UPMC's sickle cell anemia clinic. We aimed to 1) examine the current patient experience with pain, providers and pain tracking, 2) probe their reactions to the pain animation functionality.
We interviewed 2 providers & surveyed 4 providers. We aimed to 1) examine the current workflow with patient appointments, 2) probe for their reactions to the animation functionality, 3) look into difficulties in understanding a patient's pain, and 4) data they would need or like to have to improve their treatment plans.
RESEARCH SYNTHESIS
We synthesized all the research for patterns and pain points, and derived the following key insights and design directions:
DESIGN OBJECTIVE
What we realized is that patient-provider communication is critical to the treatment experience. While the current Painimation app helps with this process to a degree, its scale needs to expand to cover a greater context of patient's life with their pain. Therefore, we determined that our objective is:
Redesigning Painimation into a pain communication tool that:
helps patients with any literacy level easily communicate pain location, type and intensity;
tracks pain and other key measures to help providers make better clinical decisions;
consolidates all personal and medical data into one place to save both patient and provider's time.
03
CONCEPT DEVELOPMENT & PROTOTYPING
We first consulted with providers and identified the specific measures that need to be tracked and displayed, then through discussion and whiteboard sketching, we came up with 4 features that would accomplish our design objectives:
Pain Entry - incorporate pain animations to deliver an easy pain recording process;
Data Analysis - convert pain entries into pain trends and other clinically important information;
Profile - edit personal information and health history that would sync with clinic database;
Emergency - quickly access emergency contact and show ER provider all the essential information.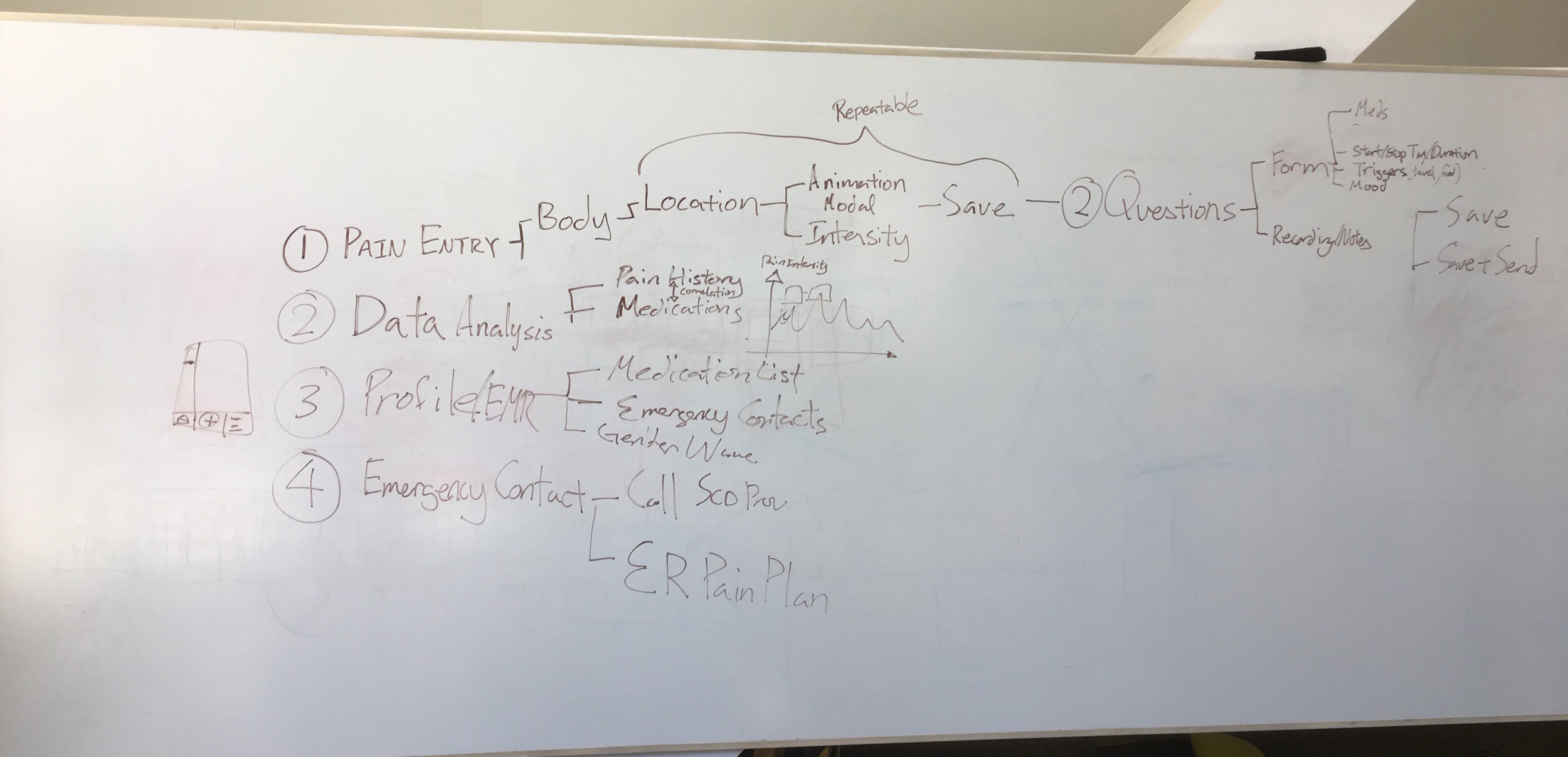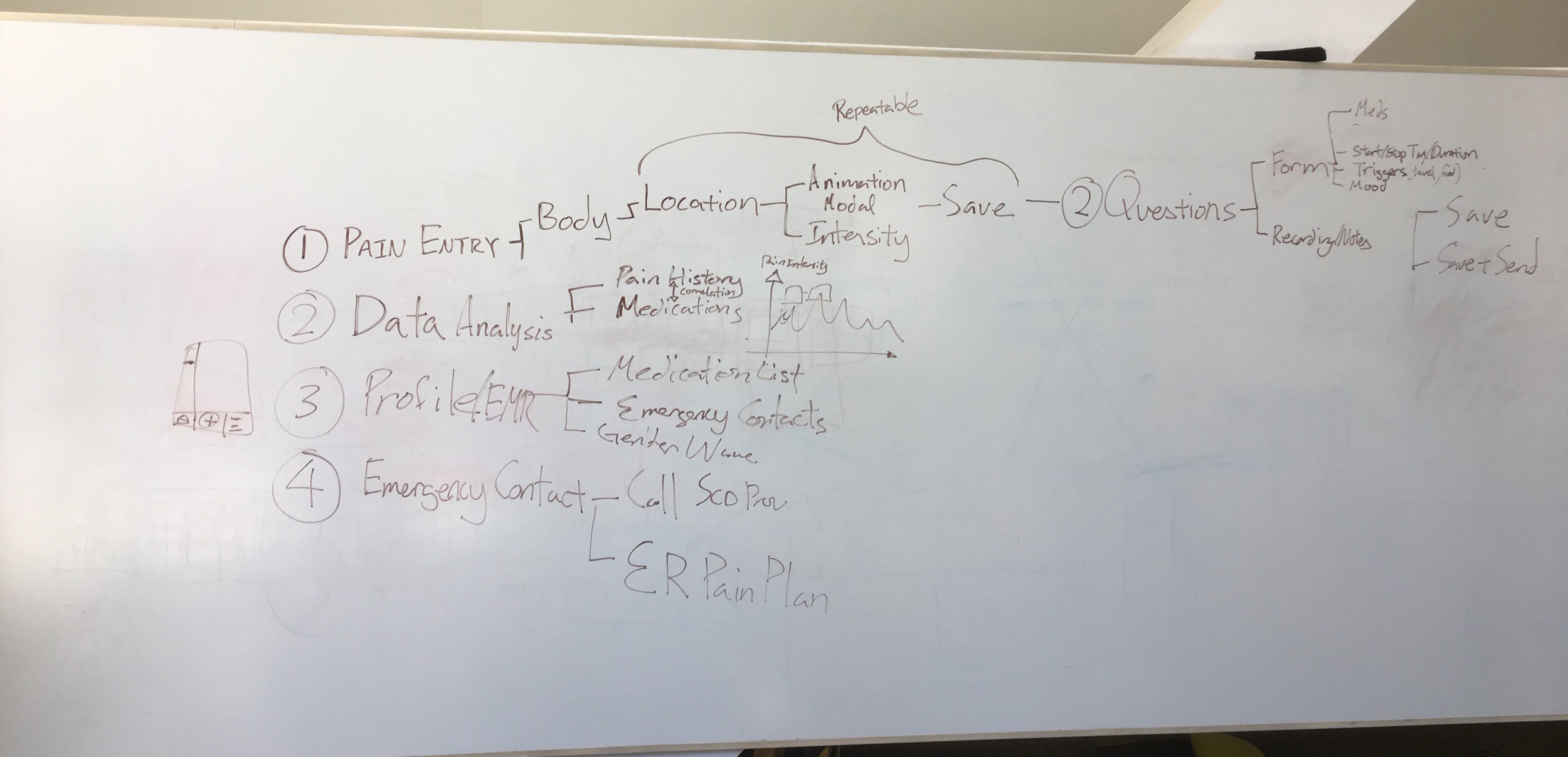 04
HI-FIDELITY DESIGN
For the final design, we rebranded Painimation into CarePal to better encompass the new features and broader focus of the app. We focused particularly on developing the UI for the "Pain Entry" flow. We chose new colors that fit in with the medical focus while remaining visually appealing and friendly to the user. We also kept design patterns about lowering patient's burden in mind.
05
NEXT STEPS
Currently, our client is in the process of pitching to investors, and plans to conduct user testing of CarePal with pain patients and providers in Pittsburgh, PA. We will continue to refine our design to make it easier for users to continuously communicate their pain.